Green woodwork means using unseasoned timber, usually from deciduous trees. Most of the timber we use comes from coppiced woodland; the cut poles split easily along the grain and after shaping with axe and drawknife can be turned to shape on the pole-lathe driven by your leg muscles, with little noise and no dust. Once shaped the wood seasons quickly. Turning on a pole-lathe is quickly learned, but it takes great skill to do it well. Kathleen is one of the few women selected for inclusion on the Register of Professional Turners maintained by the Worshipful Company of Turners of London and, at the time of her selection, the only one turning on a pole-lathe. She is also a Liveryman of the Worshipful Company of Turners.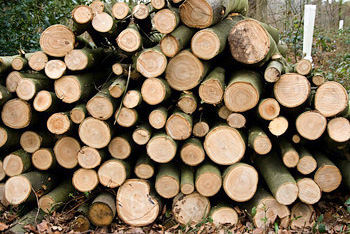 It is an environmentally friendly activity. It uses no endangered tropical hardwoods. It uses practically no powered machinery and produces no pollution or greenhouse gases. It is working with the wood, not against it.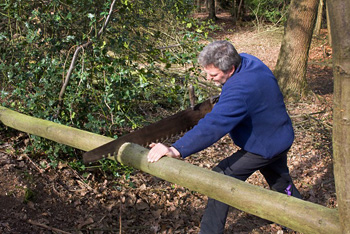 Green wood requires the maker to have an understanding of the nature of the timber he is using; sometimes that is difficult to predict, but on the other hand this intimate involvement gives one the chance to exploit unexpected discoveries – a very happy serendipity! This can arise not only in cleaving young poles but also in the milling of larger butts of oak and sweet chestnut with our chainsaw mill. It is always an exciting moment when one opens up a sawn log and sees inside what has been hidden from all eyes till then.